+38
When we grew up and went to school
There were certain teachers who would
Hurt the children in any way they could
(oof!)
By pouring their derision
Upon anything we did
And exposing every weakness
However carefully hidden by the kids
But in the town, it was well known
When they got home at night, their fat and
Psychopathic wives would thrash them
Within inches of their lives.

We don't need no education
We don't need no thought control
No dark sarcasm in the classroom
Teachers leave them kids alone
Hey! Teachers! Leave them kids alone!
All in all it's just another brick in the wall.
All in all you're just another brick in the wall.

We don't need no education
We don't need no thought control
No dark sarcasm in the classroom
Teachers leave them kids alone
Hey! Teachers! Leave them kids alone!
All in all it's just another brick in the wall.
All in all you're just another brick in the wall.

"Wrong, Do it again!"
"If you don't eat yer meat, you can't have any pudding.
How can you have any pudding if you don't eat yer meat?"
"You! Yes, you behind the bikesheds, stand still laddy!"


-62
For Ronzo, by Matt Taibbi, via
rollingstone.com
...
I have a confession to make. At first, I misunderstood Occupy Wall Street.

The first few times I went down to Zuccotti Park, I came away with mixed feelings. I loved the energy and was amazed by the obvious organic appeal of the movement, the way it was growing on its own. But my initial impression was that it would not be taken very seriously by the Citibanks and Goldman Sachs of the world. You could put 50,000 angry protesters on Wall Street, 100,000 even, and Lloyd Blankfein is probably not going to break a sweat. He knows he's not going to wake up tomorrow and see Cornel West or Richard Trumka running the Federal Reserve. He knows modern finance is a giant mechanical parasite that only an expert surgeon can remove. Yell and scream all you want, but he and his fellow financial Frankensteins are the only ones who know how to turn the machine off.

That's what I was thinking during the first few weeks of the protests. But I'm beginning to see another angle. Occupy Wall Street was always about something much bigger than a movement against big banks and modern finance. It's about providing a forum for people to show how tired they are not just of Wall Street, but everything. This is a visceral, impassioned, deep-seated rejection of the entire direction of our society, a refusal to take even one more step forward into the shallow commercial abyss of phoniness, short-term calculation, withered idealism and intellectual bankruptcy that American mass society has become. If there is such a thing as going on strike from one's own culture, this is it. And by being so broad in scope and so elemental in its motivation, it's flown over the heads of many on both the right and the left.

The right-wing media wasted no time in cannon-blasting the movement with its usual idiotic clichés, casting Occupy Wall Street as a bunch of dirty hippies who should get a job and stop chewing up Mike Bloomberg's police overtime budget with their urban sleepovers. Just like they did a half-century ago, when the debate over the Vietnam War somehow stopped being about why we were brutally murdering millions of innocent Indochinese civilians and instead became a referendum on bralessness and long hair and flower-child rhetoric, the depraved flacks of the right-wing media have breezily blown off a generation of fraud and corruption and market-perverting bailouts, making the whole debate about the protesters themselves – their hygiene, their "envy" of the rich, their "hypocrisy."

The protesters, chirped Supreme Reichskank Ann Coulter, needed three things: "showers, jobs and a point." Her colleague Charles Krauthammer went so far as to label the protesters hypocrites for having iPhones. OWS, he said, is "Starbucks-sipping, Levi's-clad, iPhone-clutching protesters [denouncing] corporate America even as they weep for Steve Jobs, corporate titan, billionaire eight times over." Apparently, because Goldman and Citibank are corporations, no protester can ever consume a corporate product – not jeans, not cellphones and definitely not coffee – if he also wants to complain about tax money going to pay off some billionaire banker's bets against his own crappy mortgages.

Meanwhile, on the other side of the political spectrum, there were scads of progressive pundits like me who wrung our hands with worry that OWS was playing right into the hands of assholes like Krauthammer. Don't give them any ammunition! we counseled. Stay on message! Be specific! We were all playing the Rorschach-test game with OWS, trying to squint at it and see what we wanted to see in the movement. Viewed through the prism of our desire to make near-term, within-the-system changes, it was hard to see how skirmishing with cops in New York would help foreclosed-upon middle-class families in Jacksonville and San Diego.

What both sides missed is that OWS is tired of all of this. They don't care what we think they're about, or should be about. They just want something different.

We're all born wanting the freedom to imagine a better and more beautiful future. But modern America has become a place so drearily confining and predictable that it chokes the life out of that built-in desire. Everything from our pop culture to our economy to our politics feels oppressive and unresponsive. We see 10 million commercials a day, and every day is the same life-killing chase for money, money and more money; the only thing that changes from minute to minute is that every tick of the clock brings with it another space-age vendor dreaming up some new way to try to sell you something or reach into your pocket. The relentless sameness of the two-party political system is beginning to feel like a Jacob's Ladder nightmare with no end; we're entering another turn on the four-year merry-go-round, and the thought of having to try to get excited about yet another minor quadrennial shift in the direction of one or the other pole of alienating corporate full-of-shitness is enough to make anyone want to smash his own hand flat with a hammer.

If you think of it this way, Occupy Wall Street takes on another meaning. There's no better symbol of the gloom and psychological repression of modern America than the banking system, a huge heartless machine that attaches itself to you at an early age, and from which there is no escape. You fail to receive a few past-due notices about a $19 payment you missed on that TV you bought at Circuit City, and next thing you know a collector has filed a judgment against you for $3,000 in fees and interest. Or maybe you wake up one morning and your car is gone, legally repossessed by Vulture Inc., the debt-buying firm that bought your loan on the Internet from Chase for two cents on the dollar. This is why people hate Wall Street. They hate it because the banks have made life for ordinary people a vicious tightrope act; you slip anywhere along the way, it's 10,000 feet down into a vat of razor blades that you can never climb out of.

That, to me, is what Occupy Wall Street is addressing. People don't know exactly what they want, but as one friend of mine put it, they know one thing: FUCK THIS SHIT! We want something different: a different life, with different values, or at least a chance at different values.

There was a lot of snickering in media circles, even by me, when I heard the protesters talking about how Liberty Square was offering a model for a new society, with free food and health care and so on. Obviously, a bunch of kids taking donations and giving away free food is not a long-term model for a new economic system.

But now, I get it. People want to go someplace for at least five minutes where no one is trying to bleed you or sell you something. It may not be a real model for anything, but it's at least a place where people are free to dream of some other way for human beings to get along, beyond auctioned "democracy," tyrannical commerce and the bottom line.

We're a nation that was built on a thousand different utopian ideas, from the Shakers to the Mormons to New Harmony, Indiana. It was possible, once, for communities to experiment with everything from free love to an end to private property. But nowadays even the palest federalism is swiftly crushed. If your state tries to place tariffs on companies doing business with some notorious human-rights-violator state – like Massachusetts did, when it sought to bar state contracts to firms doing business with Myanmar – the decision will be overturned by some distant global bureaucracy like the WTO. Even if 40 million Californians vote tomorrow to allow themselves to smoke a joint, the federal government will never permit it. And the economy is run almost entirely by an unaccountable oligarchy in Lower Manhattan that absolutely will not sanction any innovations in banking or debt forgiveness or anything else that might lessen its predatory influence.

And here's one more thing I was wrong about: I originally was very uncomfortable with the way the protesters were focusing on the NYPD as symbols of the system. After all, I thought, these are just working-class guys from the Bronx and Staten Island who have never seen the inside of a Wall Street investment firm, much less had anything to do with the corruption of our financial system.

But I was wrong. The police in their own way are symbols of the problem. All over the country, thousands of armed cops have been deployed to stand around and surveil and even assault the polite crowds of Occupy protesters. This deployment of law-enforcement resources already dwarfs the amount of money and manpower that the government "committed" to fighting crime and corruption during the financial crisis. One OWS protester steps in the wrong place, and she immediately has police roping her off like wayward cattle. But in the skyscrapers above the protests, anything goes.

This is a profound statement about who law enforcement works for in this country. What happened on Wall Street over the past decade was an unparalleled crime wave. Yet at most, maybe 1,500 federal agents were policing that beat – and that little group of financial cops barely made any cases at all. Yet when thousands of ordinary people hit the streets with the express purpose of obeying the law and demonstrating their patriotism through peaceful protest, the police response is immediate and massive. There have already been hundreds of arrests, which is hundreds more than we ever saw during the years when Wall Street bankers were stealing billions of dollars from retirees and mutual-fund holders and carpenters unions through the mass sales of fraudulent mortgage-backed securities.

It's not that the cops outside the protests are doing wrong, per se, by patrolling the parks and sidewalks. It's that they should be somewhere else. They should be heading up into those skyscrapers and going through the file cabinets to figure out who stole what, and from whom. They should be helping people get their money back. Instead, they're out on the street, helping the Blankfeins of the world avoid having to answer to the people they ripped off.

People want out of this fiendish system, rigged to inexorably circumvent every hope we have for a more balanced world. They want major changes. I think I understand now that this is what the Occupy movement is all about. It's about dropping out, if only for a moment, and trying something new, the same way that the civil rights movement of the 1960s strived to create a "beloved community" free of racial segregation. Eventually the Occupy movement will need to be specific about how it wants to change the world. But for right now, it just needs to grow. And if it wants to sleep on the streets for a while and not structure itself into a traditional campaign of grassroots organizing, it should. It doesn't need to tell the world what it wants. It is succeeding, for now, just by being something different.



-23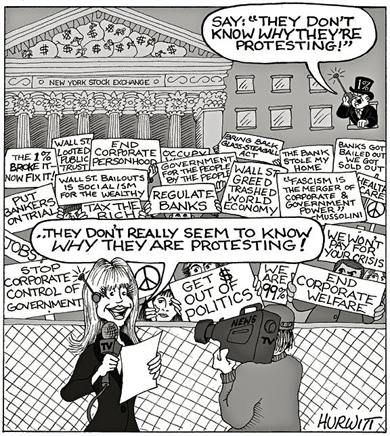 Via
hurwittgraphics.com


-7
Paul Krugman's op-ed piece via
NYT
...
As the Occupy Wall Street movement continues to grow, the response from the movement's targets has gradually changed: contemptuous dismissal has been replaced by whining. (A reader of my blog suggests that we start calling our ruling class the "kvetchocracy.") The modern lords of finance look at the protesters and ask, Don't they understand what we've done for the U.S. economy?

The answer is: yes, many of the protesters do understand what Wall Street and more generally the nation's economic elite have done for us. And that's why they're protesting.

On Saturday The Times reported what people in the financial industry are saying privately about the protests. My favorite quote came from an unnamed money manager who declared, "Financial services are one of the last things we do in this country and do it well. Let's embrace it."

This is deeply unfair to American workers, who are good at lots of things, and could be even better if we made adequate investments in education and infrastructure. But to the extent that America has lagged in everything except financial services, shouldn't the question be why, and whether it's a trend we want to continue?

For the financialization of America wasn't dictated by the invisible hand of the market. What caused the financial industry to grow much faster than the rest of the economy starting around 1980 was a series of deliberate policy choices, in particular a process of deregulation that continued right up to the eve of the 2008 crisis.

Not coincidentally, the era of an ever-growing financial industry was also an era of ever-growing inequality of income and wealth. Wall Street made a large direct contribution to economic polarization, because soaring incomes in finance accounted for a significant fraction of the rising share of the top 1 percent (and the top 0.1 percent, which accounts for most of the top 1 percent's gains) in the nation's income. More broadly, the same political forces that promoted financial deregulation fostered overall inequality in a variety of ways, undermining organized labor, doing away with the "outrage constraint" that used to limit executive paychecks, and more.

Oh, and taxes on the wealthy were, of course, sharply reduced.

All of this was supposed to be justified by results: the paychecks of the wizards of Wall Street were appropriate, we were told, because of the wonderful things they did. Somehow, however, that wonderfulness failed to trickle down to the rest of the nation — and that was true even before the crisis. Median family income, adjusted for inflation, grew only about a fifth as much between 1980 and 2007 as it did in the generation following World War II, even though the postwar economy was marked both by strict financial regulation and by much higher tax rates on the wealthy than anything currently under political discussion.

Then came the crisis, which proved that all those claims about how modern finance had reduced risk and made the system more stable were utter nonsense. Government bailouts were all that saved us from a financial meltdown as bad as or worse than the one that caused the Great Depression.

And what about the current situation? Wall Street pay has rebounded even as ordinary workers continue to suffer from high unemployment and falling real wages. Yet it's harder than ever to see what, if anything, financiers are doing to earn that money.

Why, then, does Wall Street expect anyone to take its whining seriously? That money manager claiming that finance is the only thing America does well also complained that New York's two Democratic senators aren't on his side, declaring that "They need to understand who their constituency is." Actually, they surely know very well who their constituency is — and even in New York, 16 out of 17 workers are employed by nonfinancial industries.

But he wasn't really talking about voters, of course. He was talking about the one thing Wall Street still has plenty of thanks to those bailouts, despite its total loss of credibility: money.

Money talks in American politics, and what the financial industry's money has been saying lately is that it will punish any politician who dares to criticize that industry's behavior, no matter how gently — as evidenced by the way Wall Street money has now abandoned President Obama in favor of Mitt Romney. And this explains the industry's shock over recent events.

You see, until a few weeks ago it seemed as if Wall Street had effectively bribed and bullied our political system into forgetting about that whole drawing lavish paychecks while destroying the world economy thing. Then, all of a sudden, some people insisted on bringing the subject up again.

And their outrage has found resonance with millions of Americans. No wonder Wall Street is whining.


-43


-2


+12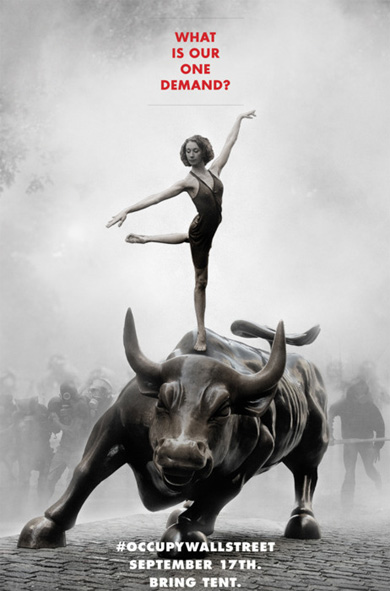 #OCCUPYWALLSTREET
. Some sound advice via
reddit
...
Guys, listen. Here's the deal.

I love you guys with every shred of my hard-left leaning heart. But I think you might be doing something wrong. Here is one thing that can help you.

Tomorrow, wear a polo and khakis

Seriously. polos and khakis. Every time you guys DO finally get some fucking press, it's a scrawny dude with dreads in a ratty t-shirt. You're going big here, dress it. Tomorrow, Polo shirt and Khakis.

Why? Because you need to get the right-leaning equivalent of me on your side. I'm 35 right now. I understand where the hippy thing comes from. I get it as well as a guy who's 65 can. My Counterparts do not. They think you are scummy druggies on welfare and when they see on tv a bunch of people who they think are S.D's on W, they root for the cops to hit you again.

Speaking of the cops, Who do you think they'll mace first? SD's on W, or a guy in khakis and a polo? Seriously, it's fucking cop camouflage. And if they DO come for you. When people at home see PEOPLE THAT LOOK LIKE THEM getting abused by police... That's when shit changes.

Seeing protesters get beat up means nothing because protesters get beat up all the time. Therefore, don't look like a protester! This connects you to the person watching and opens them to your side!

So for serious. Do it. You're almost about to tip this thing over. Polos and khakis. Cop Camo + target audience = Shave, shower and polos and khakis.

TL;DR: Polo shirt and Khakis = dress code for nyc protests tomorrow.

Do it.

Edit: Going to bed soon, one more thing before I turn it over to all of you.

Please spread this as much as you can. Professionalism will help push this thing over the edge. You have labor pushing you. National Media is starting to wake up to you. You're almost there. Keep pushing.

Think: Business Casual Friday. Don't play it up like the Billionaires for healthcare. You're just a guy, going to work in this big office building here.

Even if you don't think that you SHOULD be judged on appearances (which I do agree), You have to realize that you ARE. Fight the appearance fight another day. Polos and khakis.

Do it.